Discover the world and become friends with it
Are you craving for a special experience? Do you want to explore and taste the world? Immerse yourself in beautiful nature? Would you like to meet the locals and discover their gastronomy, lifestyle and infectious smile? You can!
Go YŪGEN-style and opt for something sizzling and magical.
The travel agency for adventurers of all levels​
Just because you're not a modern Indiana Jones doesn't mean you can't discover the world.
Solo, together with your partner, family or a group of friends ... YŪGEN will happily deliver a completely tailored travel itinerary, just for you. We do not adapt an existing program to your wishes. No, we first listen to who you are and what you want. Only then will we design YOUR personal travel program from scratch. So you can make the journey of your dreams. Once at your destination, you can count on our friendly, local partners.
Do you have a question? You can ALWAYS reach me by email. Not a distant contact center, just me, Iris. So that I can personally answer all your questions immediately.
Hi, my name is Iris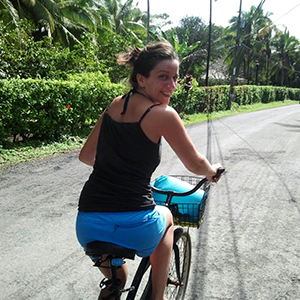 In 2001, I obtained my bachelor degree in Tourism. Then, I went on to study Insurance in evening school and a few years later I got my degree as an insurance broker. After several years of working in the insurance industry, I decided it was time to completely change my life. So I booked a ticket to the enchanting Costa Rica to go and work as a volunteer. Overwhelmed by the friendly locals, relaxed lifestyle, the downright breathtaking nature, as well as the nice characters of all other volunteers, I gained a lot of new insights while living there.
Back home I knew I wanted to share this experience and decided to return to Costa Rica to really live there and improve my knowledge, working as a team leader for a local tour operator. This gave me the opportunity to learn first-hand how an excursion had turned out, to listen to inspiring travel stories and to work together with local employees and providers.
That is why I am now able to advice which travel route and activities would suit you best, based on the information you provide me with concerning your travel wishes and interests. We are also able to offer original activities thanks to the good relationship with local partners. What about a visit to an indigenous tribe or a meeting with a descendant of the first Quakers who went to live in Costa Rica? Or a local who shows you the city just like a friend would? Visits to animal shelters, small-scale ecological plantations, a corn bread or pastry workshop … all is possible. This way, you do not only get to know a beautiful country but you also support it while having an unforgettable time.
My goal is to create a fantastic travel experience which you will always remember. With memories to cherish forever, and perhaps also some new insights. YŪGEN is therefore so much more than just a travel agency. We offer an extremely personal service. Because everyone is unique, and every travel plan should be so too. 
 
Regularly I visit our travel destinations again. Not for a few weeks, but really for months, with a rental car and my backpack. Traveling kind of incognito this way enables me to guarantee the quality of what we offer. It also allows me to discover new gems and test them for you!
LIKE TO START YOUR NEXT ADVENTURE?
5 great reasons to go YŪGEN-style ​
1. Specialist in creating travel itineraries for Costa Rica, The Azores, Portugal & Galicia, Spain​
We only offer a destination after we have checked it thoroughly ourselves. Booking a YŪGEN holiday means that you can count on authentic, special partners and destinations. Because we specialize in a just a few destinations, we know everything about the ones we offer. This way we are able to offer professional advice out of own experience.
2. Local collaborations​
YŪGEN works with local partners who are born and raised in the region. They know all insider tips and will do their utmost best to see you smile while traveling.
3. Original and special experiences​
Looking for something different? Ask YŪGEN.
Adventurous or relaxed. Nature, culture, off the beaten track or along the highlights. Basic or luxurious. Volunteer work, a honeymoon, a hiking or a surf trip…Whether you prefer a high end boutique style lodge with swimming pool or an authentic, small, local rental house…We will arrange it for you!
4. Mindful of local population and nature​
When you book with YŪGEN you support locals, ecological projects and indigenous tribes. During your travels you can choose to hire specialized, local guides, visit animal rescue centres, small-scale ecological farms and plantations…and so much more! We love our fauna and flora and will do all we can to preserve it.
5. Travel carefree​
Thanks to my previous job in the insurance sector, I find it very important to have the right insurances. YŪGEN is a member of the professional Association of Flemish Travel Agents (VVR), which is affiliated with the UFTAA (United Federation of Travel Agents). We are insured by Amlin Insurance to continue to fulfil our obligations towards the traveler in the event of financial insolvency. This guarantee is guided by Vlaamse Solidariteit Reisgelden, a department of the VVR. This, so you can travel carefree.
ARE YOU READY TO DISCOVER THE WORLD?
Psst… These happy travelers already came back from a YŪGEN holiday. Check out their experiences.
We are certified and professional
YŪGEN tours is a member of VVR, the Flemish Society of Travel Agents in Belgium, which is also an active member of UFTAA, the United Federation of Travel Agents Associations. By this membership VVR represents us on an international level. Our membership number is 9669.
YŪGEN tours is also insured, through VVR, at Amlin Insurance for Professional Liability and against Financial Deficiency.